Design of Production Systems
Many companies invest millions in computer-supported production systems and at the same time do not make full use of their human resources, whose value can be significantly increased through investments in training. In fact, the use of qualified employee potential instead of highly complex automation can not only, in certain circumstances, significantly reduce investment costs, it can also greatly increase flexibility and system capability.
Causes of Inefficient Use of Technology
The improvements which investments in modern technology are intended to make are frequently not even approximately achieved (Strohm, Kuark and Schilling 1993; Ulich 1994). The most important reasons for this are due to problems in the areas of technology, organization and employee qualifications.
Three main causes can be identified for problems with technology:
Insufficient technology. Because of the rapidity of technological changes, new technology reaching the market has sometimes undergone inadequate continuous usability tests, and unplanned downtime can result.
Unsuitable technology. Technology developed for large companies is often not suitable for smaller companies. When a small firm introduces a production planning and control system developed for a large company, it may deprive itself of the flexibility necessary for its success or even survival.
Excessively complex technology. When designers and developers use their entire planning knowledge to realize what is technically feasible without taking into account the experience of those involved in production, the result can be complex automated systems which are no longer easy to master.
Problems with organization are primarily attributable to continuous attempts at implementing the latest technology in unsuitable organizational structures. For instance, it makes little sense to introduce third, fourth and fifth generation computers into second generation organizations. But this is exactly what many companies do (Savage and Appleton 1988). In many companies, a radical restructuring of the organization is a precondition for the successful use of new technology. This particularly includes an examination of the concepts of production planning and control. Ultimately, local self-control by qualified operators can in certain circumstances be significantly more efficient and economical than a technically highly developed production planning and control system.
Problems with the qualifications of employees primarily arise because a large number of companies do not recognize the need for qualification measures in conjunction with the introduction of computer-supported production systems. In addition, training is too frequently regarded as a cost factor to be controlled and minimized, rather than as a strategic investment. In fact, system downtime and the resulting costs can often be effectively reduced by allowing faults to be diagnosed and remedied on the basis of operators' competence and system-specific knowledge and experience. This is particularly the case in tightly coupled production facilities (Köhler et al. 1989). The same applies to introducing new products or product variants. Many examples of inefficient excessive technology use testify to such relationships.
The consequence of the analysis briefly presented here is that the introduction of computer-supported production systems only promises success if it is integrated into an overall concept which seeks to jointly optimize the use of technology, the structure of the organization and the enhancement of staff qualifications.
From the Task to the Design of Socio-Technical Systems
Work-related psychological concepts of production design are based on the primacy of
the task. On the one hand, the task forms the interface between individual and organization (Volpert 1987). On the other hand, the task links the social subsystem with the technical subsystem. "The task must be the point of articulation between the social and technical system—linking the job in the technical system with its correlated role behaviour, in the social system" (Blumberg 1988).
This means that a socio-technical system, for example, a production island, is primarily defined by the task which it has to perform. The distribution of work between human and machine plays a central role, because it decides whether the person "functions" as the long arm of the machine with a function leftover in an automation "gap" or whether the machine functions as the long arm of the person, with a tool function supporting human capabilities and competence. We refer to these opposing positions as "technology-oriented" and "work-oriented" (Ulich 1994).
The Concept of Complete Task
The principle of complete activity (Hacker 1986) or complete task plays a central role in work-related psychological concepts for defining work tasks and for dividing up tasks between human and machine. Complete tasks are those "over which the individual has considerable personal control" and that "induce strong forces within the individual to complete or to continue them". Complete tasks contribute to the "development of what has been described ... as 'task orientation'—that is, a state of affairs in which the individual's interest is aroused, engaged and directed by the character of the task" (Emery 1959). Figure 1 summarizes characteristics of completeness which must be taken into account for measures geared towards work-oriented design of production systems.
Figure 1. Characteristics of complete tasks
Illustrations of concrete consequences for production design arising from the principle of the complete task are the following:
The independent setting of objectives, which can be incorporated into higher-order goals, requires turning away from central planning and control in favour of decentralized shop-floor control, which provides the possibility of making self-determined decisions within defined periods of time.
Self-determined preparation for action, in the sense of carrying out planning functions, requires the integration of work preparation tasks on the shop-floor.
Selecting methods means, for example, allowing a designer to decide whether he or she wishes to use the drawing board instead of an automated system (such as a CAD application) to perform certain subtasks, provided that it is ensured that data required for other parts of the process are entered in the system.
Performance functions with process feedback for correcting actions where appropriate require in the case of encapsulated work processes "windows to the process" which help to minimize process distance.
Action control with feedback of results means that shop-floor workers take on the function of quality inspection and control.
These indications of the consequences arising from realizing the principle of the complete task make two things clear: (1) in many cases—probably even the majority of cases—complete tasks in the sense described in figure 1 can only be structured as group tasks on account of the resulting complexity and the associated scope; (2) restructuring of work tasks—particularly when it is linked to introducing group work—requires their integration into a comprehensive restructuring concept which covers all levels of the company.
The structural principles which apply to the various levels are summarized in table 1.
Table 1. Work-oriented principles for production structuring
| | |
| --- | --- |
| Organizational level | Structural principle |
| Company | Decentralization |
| Organizational unit | Functional integration |
| Group | Self-regulation1 |
| Individual | Skilled production work1 |
1 Taking into account the principle of differential work design.
Source: Ulich 1994.
Possibilities for realizing the principles for production structuring outlined in table 1 are illustrated by the proposal for restructuring a production company shown in figure 2. This proposal, which was unanimously approved both by those responsible for production and by the project group formed for the purpose of restructuring, also demonstrates a fundamental turning away from Tayloristic concepts of labour and authority divisions. The examples of many companies show that the restructuring of work and organization structures on the basis of such models is able to meet both work psychological criteria of promoting health and personality development and the demand for long-term economic efficiency (see Ulich 1994).
Figure 2. Proposal for restructuring a production company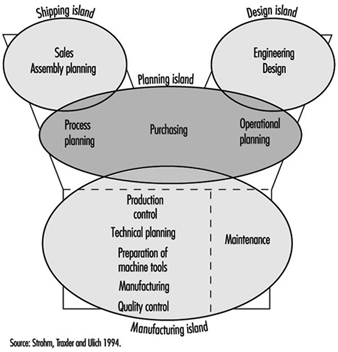 The line of argument favoured here—only very briefly outlined for reasons of space—seeks to make three things clear:
Concepts like the ones mentioned here represent an alternative to "lean production" in the sense described by Womack, Jones and Roos (1990). While in the latter approach "every free space is removed" and extreme breaking down of work activities in the Tayloristic sense is maintained, in the approach being advanced in these pages, complete tasks in groups with wide-ranging self-regulation play a central role.
Classical career paths for skilled workers are modified and in some cases precluded by the necessary realization of the functional integration principle, that is, with the reintegration on the shop-floor of what are known as indirectly productive functions, such as shop-floor work preparation, maintenance, quality control and so forth. This requires a fundamental reorientation in the sense of replacing the traditional career culture with a competence culture.
Concepts such as those mentioned here mean a fundamental change to corporate power structures which must find their counterpart in the development of corresponding possibilities for participation.
Workers' Participation
In the previous sections types of work organization were described that have as one basic characteristic the democratization at lower levels of an organization's hierarchy through increased autonomy and decision latitude regarding work content as well as working conditions on the shop-floor. In this section, democratization is approached from a different angle by looking at participative decision-making in general. First, a definitional framework for participation is presented, followed by a discussion of research on the effects of participation. Finally, participative systems design is looked at in some detail.
Definitional framework for participation
Organizational development, leadership, systems design, and labour relations are examples of the variety of tasks and contexts where participation is considered relevant. A common denominator which can be regarded as the core of participation is the opportunity for individuals and groups to promote their interests through influencing the choice between alternative actions in a given situation (Wilpert 1989). In order to describe participation in more detail, a number of dimensions are necessary, however. Frequently suggested dimensions are (a) formal-informal, (b) direct-indirect, (c) degree of influence and (d) content of decision (e.g., Dachler and Wilpert 1978; Locke and Schweiger 1979). Formal participation refers to participation within legally or otherwise prescribed rules (e.g., bargaining procedures, guidelines for project management), while informal participation is based on non-prescribed exchanges, for example, between supervisor and subordinate. Direct participation allows for direct influence by the individuals concerned, whereas indirect participation functions through a system of representation. Degree of influence is usually described by means of a scale ranging from "no information to employees about a decision", through "advance information to employees" and "consultation with employees" to "common decision of all parties involved". As regards the giving of advance information without any consultation or common decision-making, some authors argue that this is not a low level of participation at all, but merely a form of "pseudo-participation" (Wall and Lischeron 1977). Finally, the content area for participative decision-making can be specified, for example, technological or organizational change, labour relations, or day-to-day operational decisions.
A classification scheme quite different from those derived from the dimensions presented so far was developed by Hornby and Clegg (1992). Based on work by Wall and Lischeron (1977), they distinguish three aspects of participative processes:
the types and levels of interactions between the parties involved in a decision
the flow of information between the participants
the nature and degree of influence the parties exert on each other.
They then used these aspects to complement a framework suggested by Gowler and Legge (1978), which describes participation as a function of two organizational variables, namely, type of structure (mechanistic versus organic) and type of process (stable versus unstable). As this model includes a number of assumptions about participation and its relationship to organization, it cannot be used to classify general types of participation. It is presented here as one attempt to define participation in a broader context (see table 2). (In the last section of this article, Hornby and Clegg's study (1992) will be discussed, which also aimed at testing the model's assumptions.)
Table 2. Participation in organizational context
 

Organizational structure

 

Mechanistic

Organic

Organizational  processes

 
 

Stable

Regulated
Interaction: vertical/command
Information flow: non-reciprocal
Influence: asymmetrical

Open
Interaction: lateral/consultative
Information flow: reciprocal
Influence: asymmetrical

Unstable

Arbitrary
Interaction: ritualistic/random
Information flow:
non-reciprocal/sporadic
Influence: authoritarian

Regulated
Interaction: intensive/random
Information flow:
reciprocal/interrogative
Influence: paternalistic
Source: Adapted from Hornby and Clegg 1992.
An important dimension usually not included in classifications for participation is the organizational goal behind choosing a participative strategy (Dachler and Wilpert 1978). Most fundamentally, participation can take place in order to comply with a democratic norm, irrespective of its influence on the effectiveness of the decision-making process and the quality of the decision outcome and implementation. On the other hand, a participative procedure can be chosen to benefit from the knowledge and experience of the individuals involved or to ensure acceptance of a decision. Often it is difficult to identify the objectives behind choosing a participative approach to a decision and often several objectives will be found at the same time, so that this dimension cannot be easily used to classify participation. However, for understanding participative processes it is an important dimension to keep in mind.
Research on the effects of participation
A widely shared assumption holds that satisfaction as well as productivity gains can be achieved by providing the opportunity for direct participation in decision-making. Overall, research has supported this assumption, but the evidence is not unequivocal and many of the studies have been criticized on theoretical and methodological grounds (Cotton et al. 1988; Locke and Schweiger 1979; Wall and Lischeron 1977). Cotton et al. (1988) argued that inconsistent findings are due to differences in the form of participation studied; for instance, informal participation and employee ownership are associated with high productivity and satisfaction whereas short-term participation is ineffective in both respects. Although their conclusions were strongly criticized (Leana, Locke and Schweiger 1990), there is agreement that participation research is generally characterized by a number of deficiencies, ranging from conceptual problems like those mentioned by Cotton et al. (1988) to methodological issues like variations in results based on different operationalizations of the dependent variables (e.g., Wagner and Gooding 1987).
To exemplify the difficulties of participation research, the classic study by Coch and French (1948) is briefly described, followed by the critique of Bartlem and Locke (1981). The focus of the former study was overcoming resistance to change by means of participation. Operators in a textile plant where frequent transfers between work tasks occurred were given the opportunity to participate in the design of their new jobs to varying degrees. One group of operators participated in the decisions (detailed working procedures for new jobs and piece rates) through chosen representatives, that is, several operators of their group. In two smaller groups, all operators participated in those decisions and a fourth group served as control with no participation allowed. Previously it had been found in the plant that most operators resented being transferred and were slower in relearning their new jobs as compared with learning their first job in the plant and that absenteeism and turnover among transferred operators was higher than among operators not recently transferred.
This occurred despite the fact that a transfer bonus was given to compensate for the initial loss in piece-rate earnings after a transfer to a new job. Comparing the three experimental conditions it was found that the group with no participation remained at a low level of production—which had been set as the group standard—for the first month after the transfer, while the groups with full participation recovered to their former productivity within a few days and even exceeded it at the end of the month. The third group that participated through chosen representatives did not recover as fast, but showed their old productivity after a month. (They also had insufficient material to work on for the first week, however.) No turnover occurred in the groups with participation and little aggression towards management was observed. The turnover in the participation group without participation was 17% and the attitude towards management was generally hostile. The group with no participation was broken up after one month and brought together again after another two and one-half months to work on a new job, and this time they were given the opportunity to participate in the design of their job. They then showed the same pattern of recovery and increased productivity as the groups with participation in the first experiment. The results were explained by Coch and French on the basis of a general model of resistance to change derived from work by Lewin (1951, see below).
Bartlem and Locke (1981) argued that these findings could not be interpreted as support for the positive effects of participation because there were important differences between the groups as regards the explanation of the need for changes in the introductory meetings with management, the amount of training received, the way the time studies were carried out to set the piece rate, the amount of work available and group size. They assumed that perceived fairness of pay rates and general trust in management contributed to the better performance of the participation groups, not participation per se.
In addition to the problems associated with research on the effects of participation, very little is known about the processes that lead to these effects (e.g., Wilpert 1989). In a longitudinal study on the effects of participative job design, Baitsch (1985) described in detail processes of competence development in a number of shop-floor employees. His study can be linked to Deci's (1975) theory of intrinsic motivation based on the need for being competent and self-determining. A theoretical framework focusing on the effects of participation on the resistance to change was suggested by Lewin (1951) who argued that social systems gain a quasi-stationary equilibrium which is disturbed by any attempt at change. For the change to be successfully carried through, forces in favour of the change must be stronger than the resisting forces. Participation helps in reducing the resisting forces as well as in increasing the driving forces because reasons for resistance can be openly discussed and dealt with, and individual concerns and needs can be integrated into the proposed change. Additionally, Lewin assumed that common decisions resulting from participatory change processes provide the link between the motivation for change and the actual changes in behaviour.
Participation in systems design
Given the—albeit not completely consistent—empirical support for the effectiveness of participation, as well as its ethical underpinnings in industrial democracy, there is widespread agreement that for the purposes of systems design a participative strategy should be followed (Greenbaum and Kyng 1991; Majchrzak 1988; Scarbrough and Corbett 1992). Additionally, a number of case studies on participative design processes have demonstrated the specific advantages of participation in systems design, for example, regarding the quality of the resulting design, user satisfaction, and acceptance (i.e., actual use) of the new system (Mumford and Henshall 1979; Spinas 1989; Ulich et al. 1991).
The important question then is not the if, but the how of participation. Scarbrough and Corbett (1992) provided an overview of various types of participation in the various stages of the design process (see table 3). As they point out, user involvement in the actual design of technology is rather rare and often does not extend beyond information distribution. Participation mostly occurs in the latter stages of implementation and optimization of the technical system and during the development of socio-technical design options, that is, options of organizational and job design in combination with options for the use of the technical system.
Table 3. User participation in the technology process
 

Type of participation

Phases of technology process

Formal

Informal

Design

Trade union consultation
Prototyping

User redesign

Implementation

New technology agreements
Collective bargaining

Skills bargaining
Negotiation
User cooperation

Use

Job design

Quality circles

Informal job redesign
and work practices
Adapted from Scarbrough and Corbett 1992.
Besides resistance in managers and engineers to the involvement of users in the design of technical systems and potential restrictions embedded in the formal participation structure of a company, an important difficulty concerns the need for methods that allow the discussion and evaluation of systems that do not yet exist (Grote 1994). In software development, usability labs can help to overcome this difficulty as they provide an opportunity for early testing by future users.
In looking at the process of systems design, including participative processes, Hirschheim and Klein (1989) have stressed the effects of implicit and explicit assumptions of system developers and managers about basic topics such as the nature of social organization, the nature of technology and their own role in the development process. Whether system designers see themselves as experts, catalysts or emancipators will greatly influence the design and implementation process. Also, as mentioned before, the broader organizational context in which participative design takes place has to be taken into account. Hornby and Clegg (1992) provided some evidence for the relationship between general organizational characteristics and the form of participation chosen (or, more precisely, the form evolving in the course of system design and implementation). They studied the introduction of an information system which was carried out within a participative project structure and with explicit commitment to user participation. However, users reported that they had had little information about the changes supposed to take place and low levels of influence over system design and related questions like job design and job security. This finding was interpreted in terms of the mechanistic structure and unstable processes of the organization that fostered "arbitrary" participation instead of the desired open participation (see table 2).
In conclusion, there is sufficient evidence demonstrating the benefits of participative change strategies. However, much still needs to be learned about the underlying processes and influencing factors that bring about, moderate or prevent these positive effects.