In designing a product or an industrial process, one focuses on the "average" and "healthy" worker. Information regarding human abilities in terms of muscular strength, bodily flexibility, length of reach, and many other characteristics is for the most part derived from empirical studies carried out by military recruitment agencies, and reflects measured values valid for the typical young male in his twenties. But working populations, to be sure, consist of people of both sexes and a broad range of ages, to say nothing of a variety of physical types and abilities, levels of fitness and health, and functional capacities. A classification of the varieties of functional limitation among people as outlined by the World Health Organization is given in the accompanying article "Case Study: The International Classifcation of Functional Limitation in People." At present, industrial design for the most part takes insufficient account of the general abilities (or inabilities, for that matter) of workers at large, and should take as its point of departure a broader human average as a basis for design. Clearly, a suitable physical load for a 20-year-old may exceed the capacity to manage of a 15-year-old or a 60-year-old. It is the business of the designer to consider such differences not only from the point of view of efficiency, but with a eye to the prevention of job-related injury and illness.
The progress of technology has brought about the state of affairs that, of all the workplaces in Europe and North America, 60% involve the seated position. The physical load in work situations is now on average far less than before, but many worksites, nonetheless, call for physical loads that cannot be sufficiently reduced to fit human physical capabilities; in some developing countries, the resources of current technology are simply not available to relieve the human physical burden to any appreciable extent. And in technologically advanced countries, it is still a common problem that a designer will adapt his or her approach to constraints imposed by product specifications or production processes, either slighting or leaving out human factors related to disability and the prevention of harm due to the workload. With respect to these aims, designers have to be educated to devote attention to all such human factors, expressing the results of their study in a product requirements document (PRD). The PRD contains the system of demands which the designer has to meet in order to achieve both the expected product quality level and the satisfaction of human capability needs in the production process. While it is unrealistic to demand a product that matches a PRD in every respect, given the need of unavoidable compromises, the design method suited to the closest approach to this goal is the system ergonomic design (SED) method, to be discussed following a consideration of two alternative design approaches.
Creative Design
This design approach is characteristic of artists and others involved in the production of work of a high order of originality. The essence of this design process is that a concept is worked out intuitively and through "inspiration", allowing problems to be dealt with as they arise, without conscious deliberation beforehand. Sometimes, the outcome will not resemble the initial concept, but nonetheless represents what the creator regards as his or her authentic product. Not seldom, too, the design is a failure. Figure 1 illustrates the route of creative design.

System design arose from the need to predetermine the steps in design in a logical order. As design becomes complex, it has to be subdivided into subtasks. Designers or subtask teams thus become interdependent, and design becomes the job of a design team rather than an individual designer. Complementary expertise is distributed through the team, and design assumes an interdisciplinary character.
System design is oriented to the optimal realization of complex and well-defined product functions through the selection of the most appropriate technology; it is costly, but the risks of failure are considerably reduced as compared with less organized approaches. The efficacy of the design is measured against the goals formulated in the PRD.
The way in which the specifications formulated in the PRD are of the first importance. Figure 2 illustrates the relationship between the PRD and other parts of the system design process.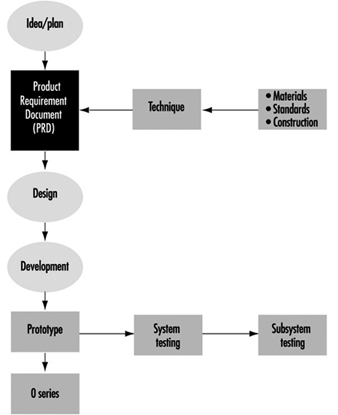 As this scheme shows, the input of the user is neglected. Only at the end of the design process can the user criticize the design. This is unhelpful to both producer and user, since one has to wait for the next design cycle (if there is one) before errors can be corrected and modifications made. Furthermore, user feedback is seldom systematized and imported into a new PRD as a design influence.
System ergonomic design (SED)
SED is a version of system design adapted to ensure that the human factor is accounted for in the design process. Figure 3 illustrates the flow of user input into the PRD.
Figure 3. System ergonomic design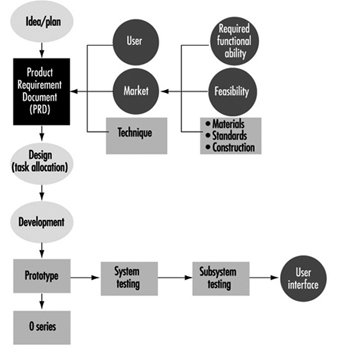 In system ergonomic design, the human being is considered part of the system: design specification changes are, in fact, made in consideration of the worker's abilities with respect to cognitive, physical and mental aspects, and the method lends itself as an efficient design approach for any technical system where human operators are employed.
For example, to examine the implications of the worker's physical abilities, task-allocation in the design of the process will call for a careful selection of tasks to be performed by the human operator or by the machine, each task being studied for its aptness to machine or human treatment. Clearly, the human worker will be more effective at interpreting incomplete information; machines however calculate much more rapidly with prepared data; a machine is the choice for lifting heavy loads; and so forth. Furthermore, since the user-machine interface can be tested at the prototype phase, one can eliminate design errors that would otherwise untimely manifest                                                                                                                                         themselves at the phase of technical functioning.
Methods in User Research
No "best" method exists, nor any source of formulae and sure and certain guidelines, according to which design for disabled workers ought to be undertaken. It is a rather a common-sense business of making as exhaustive search of all obtainable knowledge relevant to the problem and of implementing it to its most evident best effect.
Information can be assembled from sources such as the following:
The literature of research results.
Direct observation of the disabled person at work and description of his or her particular work difficulties. Such observation should be made at a point in the worker's schedule when he or she can be expected to be subject to fatigue—the end of a work shift, perhaps. The point is that any design solutions should be adapted to the most arduous phase of the work process, or else such phases may fail to be performed adequately (or at all) owing to the worker's capacity having been physically exceeded.
The interview. One has to be aware of the possibly subjective responses which the interview per se may have the effect of eliciting. It is a far better approach that the interview technique be combined with observation. Disabled persons sometimes hesitate to discuss their difficulties, but when workers are aware that the investigator is willing to exert special thoroughness on their behalf, their reticence will diminish. This technique is time-consuming, but quite worthwhile.
Questionnaires. An advantage of the questionnaire is that it can be distributed to large groups of respondents and at the same time gather data of as specific a sort as one wishes to provide for. The questionnaire must, however, be constructed upon the basis of representative information pertaining to the group to which it will be administered. This means that the type of information to be sought must be obtained on the basis of interviews and observations carried out among a sample of workers and specialists that ought to be reasonably restricted as to size. In the case of disabled persons, it is sensible to include among such a sample the physicians and therapists who are involved with prescribing special aids for disabled persons and have examined them regarding their physical capabilities.
Physical measurements. Measurements obtained from instruments in the field of bio-instrumentation (e.g., the activity level of muscles, or the amount of oxygen consumed in a given task) and by anthropometrical methods (e.g., the linear dimensions of body elements, the range of motion of limbs, muscular strength) are of indispensable value in human-oriented work designs.
The methods described above are some of the various ways of gathering data about people. Methods exist, too, to evaluate user-machine systems. One of these—simulation—is to construct a realistic physical copy. The development of a more or less abstract symbolic representation of a system is an example of modelling. Such expedients, of course, are both useful and necessary when the actual system or product is not in existence or not accessible to experimental manipulation. Simulation is more often used for training purposes and modelling for research. A mock-up is a full-size, three-dimensional copy of the designed workplace composed, where necessary, of improvised materials, and is of great use in testing design possibilities with the proposed disabled worker: in fact, the majority of design problems can be identified with the aid of such a device. Another advantage to this approach is that the motivation of the worker grows as he or she participates in the design of his or her own future workstation.
Analysis of Tasks
In the analysis of tasks, different aspects of a defined job are subject to analytical observation. These manifold aspects include posture, routing of work manipulations, interactions with other workers, handling tools and operating machines, the logical order of subtasks, the efficiency of operations, static conditions (a worker may have to perform tasks in the same posture over a long time or with high frequency), dynamic conditions (calling for numerous varying physical conditions), material environmental conditions (as in a cold slaughterhouse) or non-material conditions (as with stressful work surroundings or the organization of the work itself).
Work design for the disabled person has, then, to be founded on a thorough task analysis as well as a full examination of the functional abilities of the disabled person. The basic design approach is a crucial issue: it is more efficient to elaborate all possible solutions for the problem in hand without prejudice than to produce a single design concept or a limited number of concepts. In design terminology, this approach is called making a morphological overview. Given the multiplicity of original design concepts, one can proceed to an analysis of the pro and con features of each possibility with respect to material use, construction method, technical production features, ease of manipulation, and so on. It is not unprecedented that more than one solution reaches the prototype stage and that a final decision is made at a relatively late phase in the design process.
Although this may seem a time-consuming way to realize design projects, in fact the extra work it entails is compensated for in terms of fewer problems encountered in the developmental stage, to say nothing that the result—a new workstation or product—will have embodied a better balance between the needs of the disabled worker and the exigencies of the working environment. Unfortunately, the latter benefit rarely if ever reaches the designer in terms of feedback.
Product Requirements Document (PRD) and Disability
After all information relating to a product has been assembled, it should be transformed into a description not only of the product but of all those demands which may be made of it, regardless of source or nature. These demands may of course be divided along various lines. The PRD should include demands relating to user-operator data (physical measurements, range of motion, range of muscular strength, etc.), technical data (materials, construction, production technique, safety standards, etc.), and even conclusions arising out of market feasibility studies.
The PRD forms the designer's framework, and some designers regard it as an unwelcome restriction of their creativity rather than as a salutary challenge. In view of the difficulties at times accompanying the execution of a PRD, it should always be borne steadily in mind that a design failure causes distress for the disabled person, who may relinquish his or her efforts to succeed in the employment arena (or else fall helpless victim to the progress of the disabling condition), and additional costs for redesign as well. To this end, technical designers should not operate alone in their design work for the disabled, but should cooperate with whatever disciplines are needed for securing the medical and functional information to set up an integrated PRD as a framework for the design.
Prototype Testing
When a prototype is built, it should be tested for errors. Error testing should be carried out not only from the point of view of the technical system and subsystems, but also with a view to its usability in combination with the user. When the user is a disabled person, extra precautions have to be taken. An error to which an unimpaired worker may successfully respond in safety may not afford the disabled worker the opportunity of avoiding harm.
Prototype testing should be carried out on a small number of disabled workers (except in the case of a unique design) according to a protocol matched to the PRD. Only by such empirical testing can the degree to which the design meets the demands of the PRD be adequately judged. Although results on small numbers of subjects may not be generalizable to all cases, they do supply valuable information for the designer's use in either the final design or in future designs.
Evaluation
The evaluation of a technical system (a work situation, machine or tool) should be judged on its PRD, not by questioning the user or even by attempting comparisons of alternative designs with respect to physical performance. For instance, the designer of a specific knee brace, basing his or her design on research results that show unstable knee joints to exhibit a delayed hamstring reaction, will create a product that compensates for this delay. But another brace may have different design aims. Yet present evaluation methods show no insight as to when to prescribe what kind of knee brace to which patients under what conditions—precisely the sort of insight a health professional needs when prescribing technical aids in the treatment of disabilities.
Current research aims at making this sort of insight possible. A model used to obtain insight into those factors which actually determine whether or not a technical aid ought to be used, or whether or not a worksite is well designed and equipped for the disabled worker is the Rehabilitation Technology Useability Model (RTUM). The RTUM model offers a framework to use in evaluations of existing products, tools or machines, but can also be used in combination with the design process as shown in figure 4.
Figure 4. Rehabilitation Technology Useability Model (RTUM) in combination with the system ergonomic design approach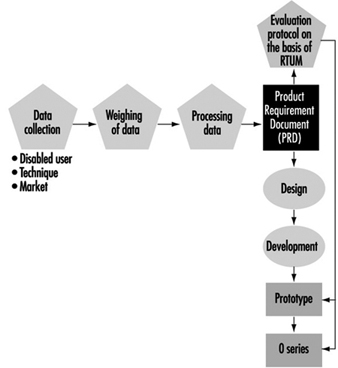 Evaluations of existing products reveal that as regards technical aids and worksites, the quality of PRDs is very poor. At some times, the product requirements are not recorded properly; at others they are not developed to a useful extent. Designers simply must learn to start documenting their product requirements, including those relevant to disabled users. Note that, as figure 4 shows, RTUM, in conjunction with SED, offers a framework that includes the requirements of disabled users. Agencies responsible for prescribing products for their users must request industry to evaluate those products before marketing them, a task in essence impossible in the absence of product requirement specifications; figure 4 also shows how provision can be made to ensure that the end result can be evaluated as it should (on a PRD) with the help of the disabled person or group for whom the product is intended. It is up to national health organizations to stimulate designers to abide by such design standards and to formulate appropriate regulations.