Warehousing has long been a global industry; warehouses are integrally linked to commerce and transportation of goods—by rail, sea, air and road. Warehouses may be classified by the type of products stored: food products stored in dry, chilled or frozen sections; clothing or textiles; construction equipment or materials; machinery or machine parts. In the United States in 1995, for exemple, 1,877,000 workers were employed in trucking and warehousing (BLS 1996); this statistic cannot presently be disaggregated into workers by warehouse type or category. Warehouses might sell directly to external (retail) or internal (wholesale) customers, and the quantities retrieved for customers may be either full-pallet or less-than-full-pallet (one or more cases selected from a single pallet). Mechanical means (fork-lifts, conveyors or automatic storage and retrieval systems (AS/RS)) may be used to transport full-pallet or less-than-full-pallet loads; or workers, working without pallet movers and conveyors, may manually handle stored materials. Regardless of the nature of the business, the products stored or the mode of transportation servicing the warehouse, the basic layout is quite uniform, although the operational scale, terminology and technology will likely differ. (For additional information on AS/RS in warehousing, see Martin 1987.)
Products are delivered by shippers or suppliers to a receiving dock, where they are then entered into either a manual or computerized inventory system, assigned a storage rack or "slot" location (an address) and then transported to that location, usually by mechanical means (conveyors, AS/RS, fork-lift trucks or tractors). Once a customer order is received, the desired containers or cases must be retrieved from their slot location. Where full pallets are retrieved, mechanical means (a fork-lift or tractor operator) are used (see figure 1). When less than a full pallet load (one or more cases from a rack or slot) is to be retrieved, manual material handling is required, using a worker called a selector, who will choose the desired number of cases and place them either onto a mechanical pallet mover, a push cart or a conveyor. The individual customer order is assembled onto a pallet or similar container for shipment to the customer; a label, tag or other mark containing invoice/billing and/or routing instructions is then applied. This task may be performed by the order selector or fork-lift operator, or, where conveyors are used to deliver single cases for final assembly, by an assembler. When the order is ready for shipment, it is loaded by mechanical means onto the truck, trailer, railroad car or ship. (See figure 2).
Figure 1. A fork-lift truck in a warehouse in the United Kingdom being loaded with apples.
Figure 2. A dockworker in the United Kingdom using lifting machines to move quarters of beef.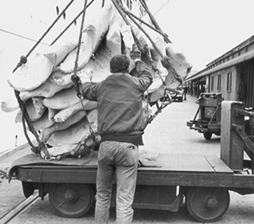 Approximately 60% of the work activity in the warehouse is directly related to travel; the remainder relates to manual material handling. Aside from the important work of clerks, dispatchers, cleaners, supervisors and managers, the main work of the warehouse relating to the transporting and handling of goods is performed primarily by two classes of workers: fork-lift operators and selectors.
Intense worldwide competition and the rapid entrance of new firms have created the drive for increased labour and space efficiency, spawning a new discipline called warehouse management systems (WMSs) (Register 1994). These systems are becoming increasingly less expensive and more powerful; they rely on computer networks, bar coding, computer software and radio-frequency communications systems to vastly increase management and control of warehouse inventory and operations, allowing warehouses to improve customer order response times and responsiveness while dramatically increasing inventory accuracy and reducing costs (Firth 1995).
WMSs essentially computerize inventory and order dispatch systems. When incoming product from a supplier or shipper arrives at the receiving dock, bar code scanners record the product code and name, instantly updating the inventory database while assigning the incoming product an address in the warehouse. A fork-lift operator is then alerted to pick up and deliver the stock via a radio-frequency communications system mounted on the vehicle.
Orders from customers are received by another computer program which looks up the product address and availability of each item ordered in the inventory database and then sorts the customer order by the most efficient travel path to minimize travel. Labels with the product name, code and location are printed out for use by the order selectors who must then fill this order. While these features clearly help improve customer service and improve efficiency, they are important preconditions for engineered work standards (EWSs), which may pose additional health and safety hazards for both fork-lift operators and order selectors.
Information about each order—the number of cases, travel distances and so on—which is generated by the order dispatch programme can be further combined with standard or allowed times for each activity to calculate an overall standard time for selecting a particular customer order; it would be extremely time-consuming and difficult to retrieve this information without the use of the computer hardware and databases. Computer monitoring can then be used to record the elapsed time on each order, compare the actual with the allowed time and then compute an efficiency index, which any supervisor or manager can look up by pressing a few computer keys.
Warehouse EWSs have spread from the United States to Australia, Canada, the United Kingdom, Germany, Austria, Finland, Sweden, Italy, South Africa, the Netherlands and Belgium. While WMS systems themselves do not necessarily add safety and health hazards, there is considerable evidence to suggest that the resulting increased workload, lack of control over work pace and the impact of increased frequency of lifting contribute significantly to increased injury risk. In addition, the time pressure imposed by work standards may force workers to take risky short cuts and not utilize proper safe work methods. These risks and hazards are described below.
Hazards
In the most basic warehouse, regardless of the level of technology and computerization, there are a myriad of basic health and safety hazards; modern WMSs can be linked with a different order of health and safety hazards.
Basic health hazards begin with potentially toxic materials which may be stored in warehouses; examples include petroleum products, solvents and dyestuffs. These require proper labelling, employee education and training and an effective hazard communication programme (including MSDSs) for all affected workers, who often know little about the health effects of what they are handling, much less proper handling, spill and clean-up procedures. (See, for example, the ILO Chemicals Convention, 1990 (No. 170), and Recommendation, 1990 (No. 177).) Noise may be present from gasoline or LP-powered fork-lifts, conveyors, ventilation systems and pneumatically-actuated equipment. Additionally, workers who operate such equipment may be subject to whole-body vibration. (See, for example, the ILO Working Environment (Air Pollution, Noise and Vibration) Convention, 1977 (No. 148), and Recommendation, 1977 (No. 156).)
Both fork-lift operators and selectors may be exposed to diesel and gasoline exhaust from trucks at the loading and receiving docks, as well as from fork-lifts. Lighting may not be adequate for fork-lift and other vehicle traffic or for ensuring proper identification of products desired by customers. Workers assigned to work in cold and frozen storage areas may experience cold stress from exposure to cold temperatures and air recirculation systems; temperatures in many freezer storage areas can approach –20ºC, even without wind chill factors being considered. Moreover, since few warehouses are air conditioned during warm months, warehouse workers, particularly those performing manual material handling, may be exposed to heat stress problems.
Safety hazards and risks are also many and varied. Besides the more obvious hazards evident when pedestrians and any motor-driven vehicle are put into the same work area, many of the injuries occurring among warehouse workers include slips, trips and falls from floors not kept free of ice, water or spilled product or that are poorly maintained; a number of injuries involve fork-lift operators who slip or fall while mounting or dismounting their fork-lift trucks.
Workers are often exposed to falling product from overhead racks. Workers may be caught in or between fork-lift masts, forks and cargo, resulting in serious physical injury. Wooden pallets handled by workers often result in exposure to slivers and related puncture wounds. Using knives to cut apart boxes and cases often results in cuts and lacerations. Workers who move boxes or containers on or off conveyors may be exposed to in-running nip points. Selectors, assemblers and other workers engaged in manual material handling are exposed to varying degrees of risk of developing low-back pain and other related injuries. Weight-lifting regulations and recommended methods for materials handling are discussed elsewhere in the Encyclopaedia.
Recordable injuries and lost workday cases in the US warehouse industry, for example, are considerably higher than those for all industry.
Data regarding injuries (and particular back injuries) among grocery order selectors, the group at greatest risk from lifting-related injuries, are not available on a national or international scale. The US NIOSH, however, has studied lifting and other related injuries at two grocery warehouses in the United States (see US NIOSH) and found that "all order selectors have an elevated risk for musculoskeletal disorders, including low-back pain, because of the combination of adverse job factors, all contributing to fatigue, a high metabolic load and the workers' inability to regulate their work rate because of the work requirements" (NIOSH 1995).
A comprehensive application of ergonomics to the warehouse should not be confined to lifting and to order selectors. A wide focus is required, involving detailed job analysis, careful measurement and assessment (part of the job analysis begins with the job safety analyses below). A more comprehensive look at the design of racks and shelves is required, as is establishment of a closer working relationship with suppliers to design or retrofit fork-lift controls to reduce ergonomic risk factors (extensive reaches, foot flexion and extension, winging, awkward neck and body positions) and to design containers that are less heavy and bulky, with handles or grips to reduce lifting risk.
Corrective Actions
Basic health hazards
Employers, workers and trade unions should cooperate to develop and implement an effective hazard communication programme which emphasizes the three following fundamentals:
adequate labelling of all toxic substances
availability of detailed MSDSs that provide more detailed information about health effects, fire, reactivity, PPE, first aid, spill clean-up and other emergency procedures
regular and relevant worker training in proper handling of these substances.
Lack of an effective hazard communication programme is one of the most frequent standards violations cited in this industry by the US Occupational Safety and Health Administration (OSHA).
Noise and vibration from mechanical equipment, conveyors and other sources require frequent noise and vibration testing and worker training, as well as engineering controls where needed. These controls are most effective when applied at the source of the noise in the form of noise insulation, mufflers and other controls (since most fork-lift operators are seated on top of the engine, vibration and noise dampening at this point are generally most effective). Lighting should be checked frequently and maintained at levels sufficient to reduce vehicle-pedestrian accidents and ensure that product identification and other information can be easily read. Heat (or cold) stress prevention programmes should be implemented for workplaces in warm and humid climates and for selectors or fork-lift operators assigned to cold storage or freezer rooms, to ensure that workers receive adequate breaks, fluids, training and information and that other preventive measures are implemented. Finally, where diesel or petroleum-based fuels are used, exhaust systems should be periodically tested for emissions of carbon monoxide and nitrogen oxides to ensure that they are within safe levels. Proper maintenance of vehicles and restricting their use to adequately ventilated areas will also help reduce the risk of over-exposure to these emissions.
Safety hazards for fork-lift and vehicle operators
Vehicle-pedestrian accidents are a constant risk in any warehouse. Pedestrian lanes should be clearly marked and respected. All vehicle operators should receive training in the safe operation of the vehicle, including traffic rules and speed limits; refresher training should also be considered. Mirrors should be installed at busy intersections or at blind corners to enable vehicle operators to check for traffic or pedestrians before proceeding, and operators should sound their horn before proceeding; back-up beepers or signals may also be considered. Dockplates from loading and receiving docks to the truck, railroad car or barge need to be sufficient to support the load and adequately secured.
Table 2 gives a job safety analysis for fork-lift operators, with recommendations.
Table 2. Job safety analysis: Fork-lift operator.
| | | |
| --- | --- | --- |
| Job elements or tasks | Hazards present | Recommended protective actions |
| Mounting/dismounting fork-lift | Slipping/tripping on floor (grease, water, cardboard) during mounting/dismounting; back or shoulder strain from repeated incorrect entry/exit and bumping head on protective structure | Proper maintenance and clean-up of floors, particularly in high-traffic areas; exercising caution when mounting/dismounting; using three-point method to get in and out of fork-lift cab, being careful not to bump your head on overhead protective structure: grasping the support beams for the overhead protective structure with both hands, placing the left foot into the foot-hold (if one is provided) and then pushing off with the right foot and levering oneself into the cab. |
| Driving with and without loads | Pedestrian traffic and other vehicles might cross path suddenly; inadequate lighting; noise and vibration hazards; turning and twisting neck into awkward postures; steering may require wrist deviation, winging and/or excessive force; brake and accelerator pedals often require awkward foot and leg posture together with static loading | Slowing down in high traffic areas; waiting and sounding horn at all crossings with other aisles; exercising caution around other pedestrians; observing speed limits; ensuring proper lighting is provided and maintained through periodic inspections of illumination; installing and maintaining material that dampens noise and vibration on all vehicles and equipment; regular noise testing; operators should twist their upper torso at their waist, not at their neck, particularly when looking behind mirrors installed on the fork-lift and throughout the work facility will also help reduce this risk factor; purchasing, retrofiting and maintaining power steering and steering wheels which can tilt and raise to fit operators and avoiding winging; providing frequent rest breaks for recovery from static loading fatigue; considering redesign of foot pedals to reduce angle of foot (extension) and by hinging accelerator pedals to the floor |
| Raising or lowering forks with or without loads | Leaning and twisting of neck in order to see load clearly; reaching for hand controls which may involve excess reach or winging | Twisting or leaning from the waist, not from the neck; selecting fork-lifts which provide adequate visibility about the mast and which have hand controls within easy reach (located at side of operator, not on control console by steering wheel), but which are not so close or high as to involve winging; possibly retrofiting fork-lifts, with manufacturer's permission. |
| Filling gas tanks or changing batteries | Changing LPG or gasoline tanks or batteries may require excessive and awkward lifting | Using at least two employees to lift, or using a mechanical hoist; considering redesign of fork-lift to facilitate a more accessible location for fuel tank |
Implementing ergonomic solutions will require closer coordination with fork-lift and vehicle manufacturers; relying solely upon operator training and traffic rules will not eliminate hazards by itself. In addition, safety and health regulatory agencies have prepared mandatory standards for the design and use of fork-lifts—for example, requiring overhead guards to offer protection against falling objects (see figure 3).
Figure 3. An overhead guard fitted to a fork-lift truck.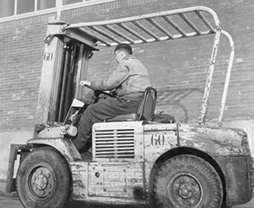 Safety hazards for order selectors
Table 3 is a job safety analysis listing most of the corrective actions necessary to reduce the safety and lifting hazards for order selectors. However, just as improved fork-lift design to reduce ergonomic risk factors requires closer coordination with vehicle manufacturers, reducing safety and lifting hazards for order selectors requires similar coordination with designers of racking systems, consultants who design and install warehouse control systems and engineered standards systems and the vendors who store their products in the warehouse. The latter can be enlisted to design products that are less bulky, weigh less and have better handles or grips. Rack manufacturers can be very helpful in designing and retrofitting rack systems which allow the selector to stand upright during selection.
Table 3. Job safety analysis: Order selector.
| | | |
| --- | --- | --- |
| Job elements or tasks | Hazards present | Recommended protective actions |
| Mounting/dismounting pallet jack | Slipping/tripping on floor (grease, water, cardboard) during mounting/dismounting | Proper maintenance and clean-up of floors, particularly in high-traffic areas; exercising caution when mounting/dismounting |
| Travel up and down aisles | Pedestrian traffic and other vehicles might cross path suddenly; lighting; noise | Slowing down in high-traffic areas; waiting and sounding horn at all crossings with other aisles; exercising caution around other pedestrians; observing speed limits; ensuring that proper lighting is provided and maintained; installing and maintaining material that dampens noise and vibration on all vehicles and equipment; regular noise testing |
| Select case from rack, walk to pallet, place case on pallet | Lifting injuries, shoulder, back and neck strain; bumping head on racks; heat stress; cold stress in freezer or cold rooms | Working in conjunction with vendors to reduce container weight to lowest possible levels and to install handles or better grips on bulky or heavy products; storing heavy products at knuckle height or higher; not storing products to require significant lifting over the shoulder, or provide steps, stairs or platforms; providing "turntable" pallets which can be rotated when selecting products, to avoid stretching; modifying carts or pallet jacks to raise higher, to minimize bending and stooping when placing product on the cart or pallet jack; restricting the "cube" of the pallet so that over-the-shoulder lifting is minimized; providing regular heat and cold stress monitoring; providing adequate fluids, conditioning programmes, clothing and frequent rest breaks |
| Separate pallets to wrap, mark or drop off at loading docks | Slipping/tripping on floor (grease, water, cardboard) during mounting/dismounting | Proper maintenance and clean-up of floors, particularly in high traffic areas; exercising caution when mounting/dismounting |
Consultants who design and install warehouse control systems and engineered standards need to be more aware of the health and safety risks concerning the effect of work intensification on manual material-handling injuries. NIOSH (1993a, 1995) has recommended that more objective forms of determining fatigue allowance, such as oxygen consumption or heart rate, be used. They have also recommended that the height of the pallet being constructed (the "cube") be limited to no more than 150 cm, and that there be an "order break" after one pallet has been assembled by the order selector, thus increasing the frequency of recovery periods between orders. In addition to more frequent breaks, NIOSH has recommended restricting overtime for workers based on engineered standards, considering worker rotation and installing "light duty" programmes for order selectors who return from injury or leave.