Although the social obligation of most postal administrations—domestic mail collection, sorting, delivery and international mail processing while preserving the security of mail—has remained unchanged over the last century, the methods by which this obligation is carried out have been transformed due to the rapid advances of technology and increases in mail volumes. Australia, France, Germany, Sweden, the United Kingdom and other industrialized countries each process billions of mail pieces each year. In 1994 the US Postal Service delivered almost two hundred billion pieces of mail, an increase in mail volume of 67% since 1980. Competition by private carriers entering the market, particularly for parcel delivery and express delivery service, as well as from other technological advancements, such as facsimile (fax) machines, computer modems, electronic mail, electronic transfer of funds and satellite systems, have also changed personal and business communications. Since private carriers carry out many of the same operations as postal services, their workers face many of the same hazards.
Most postal administrations are government-owned and operated, although this is changing. For example, Argentina, Australia, Canada, Germany, the Netherlands, Sweden, the United Kingdom and the United States have, to varying degrees, privatized their postal operations. The franchising or contracting of work and services is becoming increasingly common among the postal administrations in the industrialized world.
Postal administrations, especially in industrialized nations, are often one of the largest employers in the country; they employ up to several hundred thousand people in some countries. Although advances in technology have not dramatically changed how postal administrations are structured, they have altered the methods by which mail is sorted and delivered. As postal services have long been highly labour intensive (with wages and benefits accounting for up to 80% of total operating costs in some countries), efforts to reduce these costs as well as to improve productivity and increase operating efficiency have promoted technological advancement through capital investments. For many industrialized nations the objective is to fully automate the processing of mail up to the point of delivery.
Operations
Postal operations are divided into three main phases: collection, sorting and delivery. Administrative and maintenance services are also integral aspects of postal operations. The technological changes in operating methods, especially for the sorting phase, have led to a declining demand for workers. As a result, workers are more isolated because less staffing is required to operate the newer postal equipment. Enhanced technology has also led to a reduction of requisite skills in the workforce as computers have replaced such tasks as memorizing postal codes and performing diagnostic tests on mechanical equipment.
Shift work is still a common practice in postal operations as most mail is collected at the end of the day and then transported and sorted at night. Many postal administrations provide home and business mail delivery six days a week. The frequency of service requires most postal operations to run twenty-four hours a day, seven days a week. Consequently, the psychological and physical stress from shift work and night work still remain problems for many postal workers, particularly during the busy night shift in large processing centres.
Most postal administrations in the industrialized world are organized with large processing centres supporting small retail and delivery offices. Often several stories high and occupying several thousands of square metres, processing centres are equipped with large pieces of machinery, material handling equipment, motor vehicles and repair and paint shops similar to work environments in other industrial workplaces. Smaller retail offices, however, are generally cleaner and less noisy and more akin to office environments.
Hazards and Their Prevention
While technology has eliminated many dangerous and monotonous tasks performed by postal workers, different hazards have emerged that, if not properly addressed, may jeopardize the health and safety of postal workers.
Retail services
For employees who work at retail postal counters, job tasks depend on the size of the post office and the type of services offered by the postal administration. General duties of the retail employee include selling stamps and money orders, weighing and pricing letters and parcels and providing postal information to customers. Since retail personnel are directly involved in the exchange of money with the public, the risk of violent robbery is increased for these workers. For retail personnel who work alone, in proximity to high crime areas or late at night or early in the mornings, workplace violence can be a major occupational hazard if appropriate protective measures are not taken. The potential for such workplace violence also contributes to undue mental stress. Also, the day-to-day pressure from dealing with the public and the responsibility for relatively large amounts of money are contributing stress factors.
Environmental conditions and the physical layout of the retail employee's workstation may also contribute to health and safety hazards. Indoor air quality problems, such as dust, the lack of fresh air and temperature variations may cause discomfort for the retail clerk. Poorly designed work stations that require the operator to work in awkward postures due to the placement of retail equipment (e.g., cash register, scale, mail and parcel containers), prolonged standing postures or sitting in uncomfortable and unadjustable chairs, and lifting heavy parcels can lead to musculoskeletal disorders.
Preventive measures that address these hazards include improving security by installing bright external and internal lighting, doors, windows and partitions of bullet proof glass and silent alarms, ensuring that clerks do not work alone, providing emergency and defensive response training and ensuring that the public has limited and controlled access to the facility. Ergonomic and indoor air quality assessments may also contribute to the improvement of the working conditions for retail personnel.
Sorting
The transition from manual operations to mechanized and automated systems has greatly affected the handling and sorting phase of postal operations. For example, whereas postal workers were once required to memorize various codes that corresponded to address delivery routes, that task is now computerized. Since the early 1980s, technology has improved so that many machines can now "read" an address and apply a code. In the industrialized countries, the task of sorting mail has shifted from humans to machines.
Material handling
Although technology has reduced the amount of manual letter and small parcel sorting, it has had less of an impact on the movement of containers, bundles and sacks of mail inside a postal facility. Mail that is transported by trucks, planes, rail or ship into large processing and sorting centres may be internally transferred to different sorting areas by complex conveyor or belt systems. Fork-lift trucks, mechanical dumpers and smaller conveyors assist postal employees in unloading and loading trucks and placing the mail onto the complex conveyor systems. Some material handling tasks, however, especially those performed in smaller postal facilities, must still be performed manually. Culling operations that separate mail to be processed by machine from mail that which must be sorted by hand is one task that has not been fully automated. Depending on the postal administration's regulations or national health and safety regulations, limits on load weights may be imposed to prevent employees from having to lift and carry containers of mail and parcels that are too heavy (see figure 1).
Figure 1. Manual lifting of heavy parcels is a serious ergonomic hazard. Weight and size limits on parcels are necessary.
Material handling tasks also expose postal workers to electrical hazards and machine parts that may injure the body. Although paper dust is a nuisance to almost all postal workers, employees who primarily perform material handling tasks commonly inhale dust when they first open mailbags, containers and sacks. Material handling workers are also the first employees to come into contact with any biological or chemical materials that may have spilled during transport.
Efforts to reduce fatigue and back injuries include automating some of the manual lifting and carrying tasks. Transporting pallets of mail by forklifts, using rolling containers to transport mail inside a facility and installing automatic container unloaders are methods of automating material handling tasks. Some industrialized nations are utilizing robotics to assist in material handling tasks such as loading containers onto conveyors. Regulating the amount of weight workers lift and carry and training workers in proper lifting techniques may also help to reduce the incidence of back injury and pain.
To control exposure to chemicals and biological matter, some postal administrations place prohibitions on the type and amount of hazardous materials that can be sent by mail and also require these materials to be identifiable to postal workers. Since some mail will undoubtedly be sent without proper warnings affixed, workers should be trained in responding to releases of potentially hazardous materials.
Manual/mechanized
As sorting technology improves, manual letter sorting is rapidly being phased out. Some manual letter sorting, however, is still necessary in many postal administrations, particularly in the developing countries. Manual letter sorting involves workers placing individual letters into slots or "pigeon holes" in a case. The worker then bundles the mail from each slot and places the bundles into containers or mail bags for dispatch. Manual sorting is a repetitive activity that the worker performs while either standing or sitting on a stool.
Manual parcel sorting is also still performed by postal workers. Since parcels are generally larger in size and much heavier than letters, workers must often put the parcels into separate hampers or containers that are arranged around them. Workers who perform manual parcel sorting often are at risk for cumulative trauma disorders affecting the shoulders, arms and back.
Automation has addressed many of the ergonomic hazards associated with manual letter and parcel sorting. Where automation technology is not available, workers should have the opportunity to rotate to different tasks to relieve fatigue from one particular body area. Appropriate rest breaks should also be provided to workers performing repetitive tasks.
In modern, mechanized sorting systems, workers sit at a keyboard while letters are mechanically passed in front of them (figure 2). Coding desks are arranged either side-by-side or behind one another in a line. Operators must often memorize hundreds of codes that correspond to different zones and enter a code for each letter on a keyboard. Unless adjusted properly, the keyboards may require the operator to use more force to depress the keys than modern computer keyboards. Approximately fifty to sixty letters each minute are processed by the operator. Based upon the code entered by the operator, the letters are segregated into different bins and then removed, bundled and dispatched by the postal workers.
Figure 2. Coding desk operators sorting letters with the aid of computerized machines.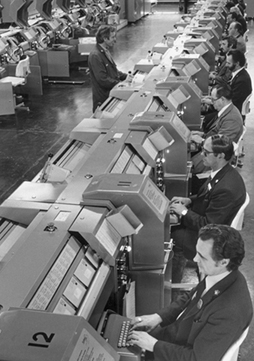 Ergonomic hazards that lead to musculoskeletal disorders, particularly tendinitis and carpal tunnel syndrome, are the biggest problem for mechanized sorting operators. Many of these machines were designed several decades ago when ergonomic principles were not applied with the same degree of diligence as they are today. Automated sorting equipment and VDUs are quickly replacing these mechanized sorting systems. In many postal administrations where mechanized sorting is still the primary system, workers may rotate to other positions and/or take breaks at regular intervals. Providing comfortable chairs and adjusting the keyboard force are other modifications that can improve the job. Although a nuisance and discomfort to the operator, noise and dust from the mail are generally not major hazards.
Visual display units
Visual display unit-based sorting terminals are beginning to replace mechanized sorters. Instead of the actual mail pieces being presented to the operator, enlarged images of the addresses appear on the screen. Much of the mail that is processed by VDU sorting has been previously rejected or culled as not machineable by the automatic sorters.
The advantage of VDU sorting is that it does not need to be located in close proximity to the mail. Computer modems can send the images to the VDUs that are located in another facility or even a different city. For the VDU operator, this means that the work environment is generally more comfortable, with no background noise from sorting machines or dust from mail. However, sorting with the VDU is a very visually demanding job and often involves only one task, keying from images of letters. As with most sorting tasks, the job is monotonous but at the same time requires intense concentration from the operator in order to maintain the required productivity levels.
Musculoskeletal discomfort and eye strain are the most common complaints of VDU operators. Steps to reduce physical, visual and mental fatigue include providing adjustable equipment, such as keyboards and chairs, maintaining adequate lighting to reduce glare and scheduling regular breaks. In addition, since VDU operators often work in an office-type environment, consideration should be given to indoor air quality complaints.
Automation
The most advanced type of sorting reduces the need for workers to be directly involved in the coding and segregation of individual mail pieces. Generally only 2 or 3 workers are required to operate an automatic sorter. At one end of the machine, a worker loads mail onto a mechanical belt that feeds each letter in front of an optical character reader (OCR). The letter is read or scanned by the OCR and a bar code is printed on it. The letters are then automatically segregated into dozens of bins located at the other end of the machine. Workers then remove the bundles of segregated mail from the bins and transport them to the next stage of the sorting process. Larger automated sorters can process between 30,000 and 40,000 pieces of mail per hour.
Although such automation no longer requires a keyboard to encode mail, workers are still exposed to monotonous, repetitive tasks that put them at risk for musculoskeletal disorders. Removing the bundles of segregated mail from the different bins and placing them into containers or other material handling equipment puts physical stress on the operator's shoulders, back and arms. Operators also complain of wrist and hand problems from constantly grasping handfuls of mail. Dust exposure is sometimes more problematic for automated sorter workers than other postal employees because of the larger volume of mail processed.
Many postal administrations have only recently acquired automated sorting equipment. As complaints of musculoskeletal discomfort mount, equipment designers and engineers will be forced to incorporate ergonomic principles more thoroughly in their attempts to balance productivity needs with the well-being of employees. For example, in the United States, government safety and health officials have concluded that some of the automated mail-sorting equipment poses serious ergonomic deficiencies. While attempts can be made to modify either the equipment or work methods to reduce the risks of musculoskeletal discomfort, such modifications are not as effective as the proper design of equipment (and work methods) in the first place.
Another problem is the risk of injury during the clearing of jams or during maintenance and repair operations. Proper training and lockout/tagout procedures are needed for these operations.
Delivery
Postal operations rely upon many methods of transportation to distribute mail including air, rail, water and highway. For short distances and local delivery, mail is transported by motor vehicles. Mail travelling generally less than several hundred kilometres from large processing centres to smaller post offices is usually carried by trains or large trucks, while air and sea travel is reserved for the longer distances between large processing centres.
As the use of motor vehicles for delivery services has increased dramatically during the past two decades, accidents and injuries involving postal trucks, jeeps and automobiles have become for some postal administrations the biggest and most serious occupational safety and health problem. Vehicular accidents constitute the main cause of workplace fatalities. Additionally, while the increased use of motor vehicles for delivery and the installation of more street mail storage boxes have helped to reduce the amount of time letter carriers spend walking, musculoskeletal discomfort and back injuries still are problematic due to the heavy bags of mail that they must carry on their routes. Also, robberies and other violent attacks against letter carriers are on the rise. Injuries caused by slips, trips and falls, particularly during adverse weather conditions, and dog attacks are other serious hazards experienced by letter carriers. Unfortunately, other than increased awareness not much can be done to eliminate these particular hazards.
Steps designed to reduce the likelihood of vehicular accidents include installing anti-lock brakes and extra mirrors to improve visibility, increasing seat belt usage, improving driver training, conducting more frequent vehicle maintenance inspections and improving roadways and vehicle design. To address the ergonomic hazards associated with lifting and carrying mail, some postal administrations provide carts with wheels or specialized mail bags where the weight is more evenly distributed across the worker's shoulders instead of concentrated on one side. To reduce the risk of workplace violence, letter carriers may carry two-way communication devices and their vehicles may be equipped with a tracking system. In addition, to address environmental concerns and concerns of exposure to diesel exhaust, some postal vehicles are powered by natural gas or electricity.
Repair and Maintenance
Workers that are responsible for the day-to-day upkeep, cleaning and repair of postal facilities and equipment, including motor vehicles, face similar hazards as maintenance employees in other industrial operations. Exposure to welding operations, electrical hazards, falls from scaffolding, chemicals found in cleaning fluids and machine lubricants, asbestos from brake linings and dust are examples of hazards associated with maintenance tasks.